Source: https://pixabay.com/
'Manners maketh man' is a proverb of meanings not only for guests at formal dinner, but also for the host. A well-prepared formal dinner table setting will tell your guests that they are honored, and their attendance expected.
Read the following guide, and you will have a full knowledge of formal dinnerware set up, from plates, cutlery, glasses, and to other tips including Napkins, decorations, etc.
Plates in a Formal Dinner Set
Source: pixabay
A four-piece setting includes a dinner plate, salad plate, bowl, and cup, and will meet requirements for any meal, but not for traditional formal dinner which needs saucer and even more additional pieces. If you start to get dizzy, the followings will get through to you.
Dinner Plate
Dinner plate is the most-often used plate during the entire meal and is used for main courses. A little bit different from what its name suggests, dinner plate is not limited to be used in dinner, and many people use the same plate for lunch as well.
In the middle of the setting is placed the dinner plate with a salad plate and a soup bowl are stacked on its top. The average dinner plate measures 11 or 12 inches in diameter, and there is a wide variety of materials to choose from, and ceramic dinner plates is always a time-honored choice.
For a more traditional table setting, a charger plate is placed beneath the dinner plate, and it is also known as service plates, under plates, or chop plates. Besides a decorative base, it is used to serve multiple course meals in an elegant way.
Salad Plate
As the name suggests, salad plate is chiefly used in individual servings of salads, a course that is usually preceding or after the main course in traditional formal dinner. And therefore, it is added on the top of dinner plate.
There are two bacis types: the round salad plate and the crescent salad plate. The former is either 7 to 7.5 inches or 8 to 8.5 inches in diameter, and it comes as part of the dinnerware set, for harmony in design of it and other plate in a set. The less common crescent salad plate measures 4.5 to 6 inches wide by 7 to 8 inches long. The a-quater-moon shape allows it to rest up against the dinner plate, and helps reduce spills onto the tablecloth.
Can't differentiate salad plate with other plates? Remember it is distinctly smaller than charger plate and dinner plate, but larger than bread plate.
Soup Bowl
Soup bowl is the dinnerware containing watery food like soup, and ceramic soup bowl is the usual choice of a formal dinner. It is usually wider and more shallow than a cereal bowl.
There are generally four types of soup bowl. Rimmed soup bowl has rim that is often used for placing crackers. Coupe soup bowl does not have rim, and may rest on an underplate where cracker is usually set on. Soup plate is a deep plate with a concave center and wide rim used for placing cracker. Soup mug is an oversized mug and is informal piece of dinnerware but nice for thin soups that can easily be drank.
Soup is usually the first course, soup bowl is set upon the salad plate and dinner plate. However, there are some flexibility in it: the salad can be served in the bowl, and a fish course or appetizers on the small plate, because it is the plates placement that should accommondate the meal, not the other way around.
Bread Plate
Bread plate is an indispensible piece in traditional formal dinner setting. It is to place bread and butter that you eat along with your main course, which is the reason why it can also be called bread and butter plate.
Bread plate look like plate in general, but it is small in size, about 5 to 6 inches in diameter. And like other kinds of plates, there a wide range of material you can choose from. If you are overwhelmed by the choices, ceramic bread plate never be wrong.
The bread plate is used to separate bread and butter from sauce, gravy, and juices from other foods on the plate, and table setting with it requires more clearing and take away.
Cutlery & Flatware
Source: pixabay
Cutlery and flatware both refer to fork, knife, and spoon that you use to eat your food. Cutlery or flatware sometimes refers to silverware or utensils. One complete dinner setting of cutlery includes three forks, two or three knives, two spoons, and the following is elaboration on them.
Forks
Three forks are salad fork, fish fork, and dinner fork.
Salad fork is designed for eating vegetables and fruits, and is 6 inches in length. It has 4 tines that are flatter and broader, compared with other forks. In order to make it easier to cut lettuce and other vegetables, the left tine is thicker than the other three thines, working as a knife.
Fish fork, as its name suggests, is used when you are having fish course. Fish fork looks a lot like a standard table fork, but with a wider and thicker tine on the farthest left. This is helpful to pulling flesh from the bone in an effortless way. If you are serving filleted fish, using dinner fork would be more suitable.
Dinner fork is used to have the main course and also known as place fork. It is 7 inches long, and apparently larger than salad fork. There are 3-tine and 4-tine fork, and unlike tines of salads fork, tines of dinner fork are equal in size, so that it can grab food in a easy way.
Like what is said in last chapter–the placement of dinnerware should accommondate the meal, the forks are placed on the table in the order of using them, and the order starts from the outside, and then moves inwards, toward the center of the dinner setting, dinner plate. Therefore, dinner fork is closest to the dinner plate on the left side, salad fork is on the farthest left side to the dinner plate, and fish fork is caught between the aforesaid two forks.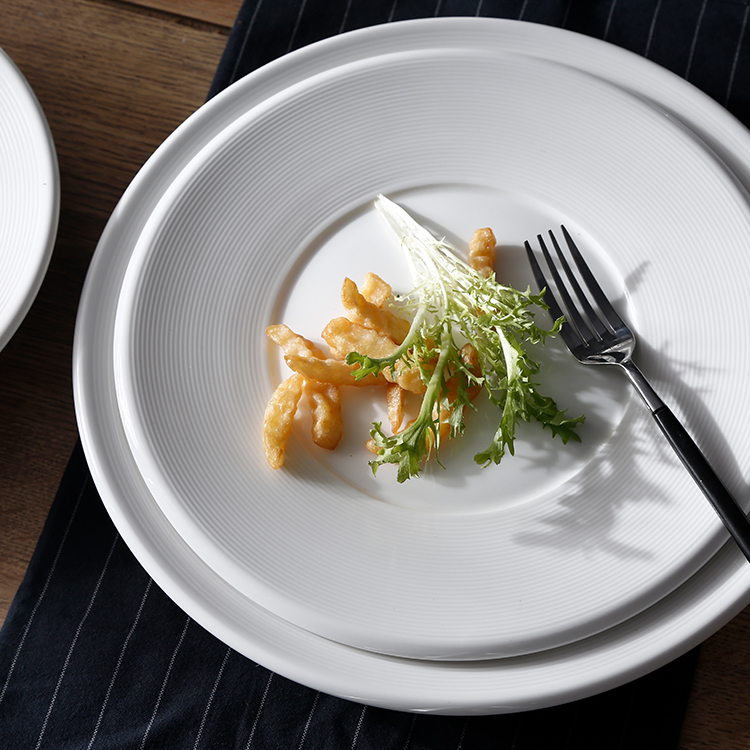 Knives
There are several types of table knives, but we only talk about three most-often-used types–butter knife, dinner knife, and steak knife.
Butter knife, also called butter spreader, refers to a kind of non-serrated table knife with either rounded or pointed edge, used merely for slicing butter and then spreading it over bread. It is the smallest one of all table knives, and should always be placed on bread plate.
Salad knife is made from non-reactive material, and only in this way there is not that likely to form brown edges shortly after slicing fresh fruits and vegetables.
Dinner knife is a standard piece of cutlery of formal table setting. It has a slightly-serrated blade, and can be used to cut, push, or move most food. If there is a fish course in the formal dinner, or a salad course, a dinner knife may not be the utensil used, because it is not delicate enough. Generally, there are two sizes of dinner knife, which are the continental-size (or European size, approximately 9.75 inches long) and the place size (or American size, about 9.25 inches long).
Steak knife is designed with the sharpest serrated blades comparing to other table knives, intended to slice through different kinds of meat quickly with ease. It is not only sharper, but also bigger, approximately 9 to 10.5 inches in length, with a blade about 4.5 to 5.5 inches.
Like all cutlery, table knives should be used outside-in, and the knives guests will use last should be placed closest to the dinner plate. And thus, all knives should rest on the right to the dinner plate, and from the nearest to the farthest are: steak knife or dinner knife(If there is a steak course, you should substitute steak knife for the dinner knife), salad knife. And the bread knife, or bread and butter knife, should be kept on bread plate.
Spoons
Two spoons that appear on a formal dinner table are soup spoon and dinner spoon.
When consuming soup, it is time to use the soup spoon. Soup spoon has a rounded, large, and deep bowl, intended to provide a less messy eating experience, and the guest can sipping a reasonable amount every time.
Dinner spoon refers to the multipurpose spoon features a shallow, oval-shaped bowl. It is obviously larger than soup spoon, and is between 5.75 and 6.25 inches long.
Spoons are also placed on the right of the knives, and stick to the principle "using cutlery outside-in", and therefore the dinner spoon is next to the knives and followed by soup spoon.
Glasses & Cups
Source: pixabay
Glasses are the important component of formal dinner, and can add elegance to the table setting. Each table setting at a formal dinner can include up to five different types of glasses, and they are water goblet, champagne flute, wine glass, martini glass, and sherry glass.
Water Goblet
Water goblet is also known as all-purpose glass, and used to serve ice water or other non-alcoholic beverage. It usually has a shorter stem and deeper bowl than a wine glass, since it needs to contain more liquid than other dinner glass. Water goblet is place just above the knife, and at the upper right of the table setting.
Champagne Flute
Champagne flute is a slender glass for holding champagne. It looks slim and delicate, because of its long and slim stem and a tulip-like bowl.
Wine Glass
Wind glass has long stem and almost oval bowl, allowing guest to sip the wine without grasping the bowl and changing the temperature of the wine. Compared with red wine glass, white wine glass' stem is longer, and bowl smaller and shallower.
Martini Glass
Martini glass and sherry glass belong to the special purpose glasses. Martini glass features a long, curved stem and a wide, almost triangular bowl. Sherry glass is similar to regular wine glass, only smaller.
Other Tips
Source: pixabay
If you want to complement the decor of your dining table and add visual interest to your dinner's overall feel, you should also take the type of napkins, linens, flowers and decorations into consideration.
Napkins
Napkins will be the especially important component of a formal dinner, since it can be used for intricate folds and then placed on top of a plate or traditionally to the left of the forks, serving as a aesthetic decoration, and they can cover a person's lap while they are eating their meal, so that the clothing of guests won't be ruined.
Usually there are 4 types of napkins, and their standard sizes(when fully laid out flat) are: beverage napkins of 10″x10″ ; luncheon napkins of 13″x13″; dinner napkins of between 16″x16″ and 22″x22″; and dispenser napkins of 6.5″x5″.
Linen
Linen here refers to tablecloth. You can choose tablecloth with all kinds of features, as long as it matches the overall dinner setting. Also, you should keep in mind when measuring the size that a ten to 15-inch drop from the edge of the table to the hem is considered formal length.
Flowers & Decorations
Last but not the least, flowers and other decorations are necessary for a formal dinner.
Using fresh-cut flowers and candles as the centerpiece can be a proper choice. However, the top of a centerpiece should be below eye level, so that giving a sense of elegance without distracting guests' attention from meal nor obscuring their vision.
Key Takeaway
Source: pixabay
To set a formal table, you should consider the overall style and the courses that will be served first, and then choose the right type of plates, cutlery or flattware, glasses or cups. To create an aesthetic dinner setting with the sense of harmony, you can use napkins, linens, flowers, and other kinds of decorations that are mathing the overall dinner setting.
Now that you have enough knowledge about a formal table, go try setting up one for yourself.