For hotels and restaurants, plate plays an essential role anywhere. We will introduce a few types of dishes in the hotel one by one.
In order to meet different requirements of customers, plates appear in many types. Commonly speaking, the types of plates used in restaurants and hotels vary in materials and functions. Let's talk about plates in different materials first.
Plates in Hotel & Restaurant by Materials
(Source: Pixaby)
Among different types of plates used in hotels, porcelain, glass, and aluminum plate are the top three in the most popular rank list. They feature affordable prices and adaptation, allowing most of the technological process treatments and designs.
Porcelain
In terms of appearance, porcelain shows compaction and grace. For customers in the hotel, it should be enjoyable and peaceful to have meals on porcelain plates. The pretty pattern can be painted on it for decoration. Here we need to mention the classic blue and white porcelain, which is literally artwork. Slender lines are drawn in blue smoothly. Images of peaceful lotus, birds, or plants are arranged in a proper place to constitute a graceful appearance
Besides, porcelain dinner plates are with good heat capacity. In other words, they can take more heat compared to other materials, also preventing scald from hot meals when touching the plates.
Also, clinking sound is inevitable. The clear sound of porcelain can always brings a peaceful tint into the whole environment.
Porcelain could be made in any shape at ease, which makes custom porcelain dinner set possible. A set of tableware in different shapes in the same material and design shows coordination and completeness, which leaves a satisfied impression before having meals.
Thanks to its easy-shape, the logo of the hotel or the restaurant can be customized on the plates. Thus, a porcelain plate is not just tableware for holding meals, but also a decoration to market your brand.
Finally, porcelain plates are available at good prices in many shops. You can buy them conveniently and cost-effectively.
Glass
(Source: Pixaby)
Although there is less graceful pattern on glass plates than on porcelain plates, the transparency of glass plates can offer a sense of unique beauty.
In hotels and restaurants, we often see fresh fruit salad held on a transparent glass plate. The original colors of food can be brightly shown through the glass without any disturbance, so the food seems tasty, fresh, and attractive within.
Like porcelain plates, glass plates are not alone on the dinner table. Coffee cups, juice glasses, red wine glass,es and even glass vases are coordinated with them as a set of tableware. You will feel neat before your dinner.
In addition to holding food, modern plates for restaurants takes on more social responsibilities than before. The lead-free glass plate was born, promising no harm to health and free environmental pollution. So next time you buy glass plates, don't forget to pick the lead-free ones.
Last, there is something we want to remind you of. Don't directly put a glass plate on fire, just in case the glass will break.
Aluminum
(Source: Unsplash)
When talking about aluminum plates in restaurants, we will immediately think of pizza. Exactly, they are good partners for restaurants. Differing from glass, aluminum is used in making plates to hold hot food.
Aluminum is a type of heat-resistant material. You may have a question-how hot can it suffer? It can be directly cooked on the fire. So, the aluminum plate is a good assistant for cookouts and picnics. Or, if you are interested in baking and roasting, you should well prepare aluminum plates. They can hold oven-fresh bread and even be heated in the oven directly.
Aluminum plate is also preferred by restaurants due to their strength. You know, in the kitchen, washing dishes is a heavy work task. Dishwashers definitely love aluminum plates, because they only need to wash dishes quickly without the risk consideration of breaking plates and any careful handling.
In addition to the common type of aluminum plate used in restaurants, another type of aluminum plate which is thinner become more and more popular for takeout food. Some meals, like cheese-baked spaghetti, are inconvenient to take out with a common lunch box. Thin aluminum plates ensure the possibility now. From baking to taking out, it is not necessary to change plates, allowing easy work for restaurant chefs. Also, customers can carry them easily because they are lightweight.
Plates in Hotel & Restaurant by Functions
(Source: Unplash)
If we classified plates by functions, things become more instructive for different using situations. In this part, we will introduce five types of plates in hotels with different functions in detail.
Bread Plate
The wood tray is one of the most favorite bread plates. Commonly speaking, there is a holding handle at the end of the tray. The whole tray body is flat. If you are careful enough, you may find wax oil coating on it. Wood tray is applicable for bread like croissants, baguettes, and pizza. The flat wood surface with wax oil coating can well bear cuts by knife, allowing customers to cut croissants into pieces for easy eating. The holding handle with a hole promises steady handling and convenient hanging on the wall.
Second, a porcelain round plate is also recommended to hold pieces of bread. It is very good-looking, and it can be washed easily. In practice, customers in restaurants and hotels always can be well served by porcelain round plates. So, if you have no idea about what kind of plates to choose, a porcelain round plate is always a good choice.
Service Plate
When it comes to service plates, there's normally only one simple image in our head: a round porcelain plate. In fact, the design of the service plate is not that casual as we think.
The service plate has been ready before dinner. It suggested how the table was zoned and where should we seat. So, for the plate size, it is proper to cover one-person area.
And, the materials of service plates should be adaptive to most of the food. Thus, it is smart to choose porcelain. Customers can put any favorite food on their own service plates without limitations of material.
Moreover, the design of the service plate shows dinner grade or style to customers before meals. The more elegant the service plates are, the more delicious the feast is. For some significant festivals, like Christmas, red and green patterns are printed on the service plates to get a happy atmosphere.
Dinner Plate
In hotels and restaurants, dinner plates are all designed well. You can see plates in any shape and any style on your dinner table. Appetizer, like caviar, is always held in an elegant plate. Customers can enjoy the first meal not only in vision but also in taste. For the main course like steak, it is suggested to be held in a bigger plate. After the main course, dessert is provided in order to entertain. And how to match the dessert with the proper plate is a good question. For example, a white porcelain plate is visually friendly for macarons, which are always in different colors. And, a white small bowl is so cute to hold Brulee.
Salad Plate
A glass plate or bowl is the first choice to hold salad because of its transparency. The second is a white round plate.
In hotels and restaurant, salad materials could be much varied than other meals. Therefore, there will be lots of colors showing in one plate. Glass plates and white plates nicely contain colorful salad in a direct and simple way. On the one hand, they don't show extra color to disturb customers visually. On the other hand, it is easy for restaurants to wash glass plates with their smooth surface. You know, salad dressing always attaches to the plate.
Soup Bowl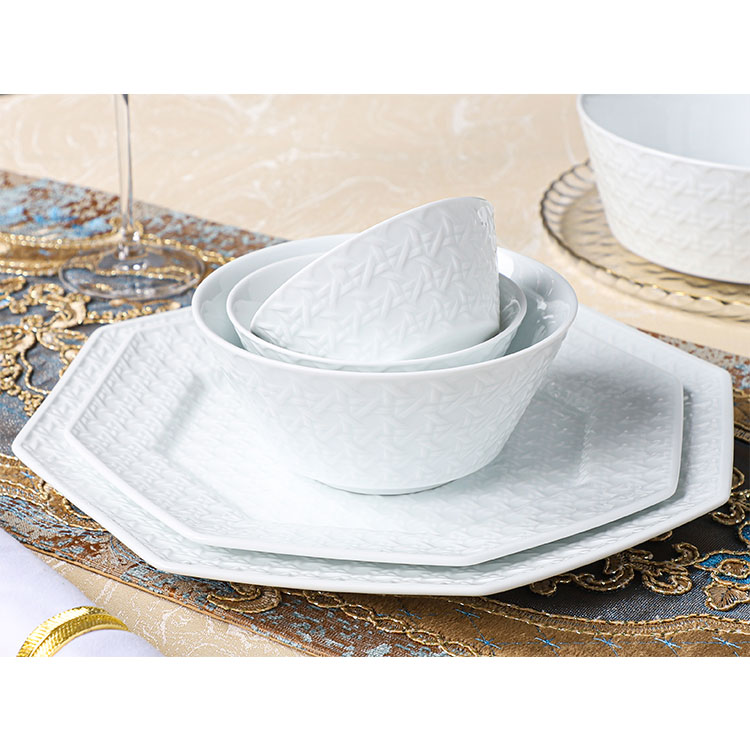 Soup is always served hot, while Dominic's hat bowl offers a solution to hold it.
The hat bowl is the most classical soup bowl in the restaurant. As its name goes, it looks like a hat. To be accurate, an inverted hat. The brim of the bowl is for handling. The body is for containing soup. It can be said that this is a clever design, keeping hands away from the hot soup when handling.
In addition to the above basic properties, decorative patterns could be added to the bowl brim. A proper pattern will bring a more aesthetic touch and leave a good impression on the customers' hearts.
Conclusion
Plate plays an important role in hotels and restaurants. It seems very simple, but if you want to look into it, things go interestingly. We believe that choosing the proper plates will facilitate the efficiency of the restaurant and the satisfaction of your customers.